Give & take | NJBIZ
http://www.njbiz.com/apps/pbcs.dll/article?AID=/20141020/NJBIZ01/310179991/Give–&-take/&template=printart[10/20/2014 10:55:02 AM]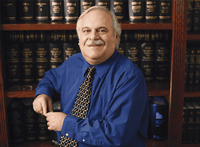 Carl Schwartz, managing partner, Rosenberg Rich Baker Berman & Company.
Give & take
Charitable contributions can be wonderful for the community
… and the bottom line. Here's how to ensure you're getting
the most from your giving
By Brett Johnson
Charitable donations in the U.S. reached a record-high $416.5
billion last year, according to a report from the Atlas of Giving.
Corporations accounted for $20.1 billion of that. Individuals —
affluent business owners and executives in particular — gave a
cumulative $310.8 billion.
And in a perfectly warmhearted world, all that giving was done in
the name of altruism.
"But in the cold world of taxes," Blair Talty said, "charitable gifts
(can) lower your taxable estate."
Talty, vice president, senior wealth planner with Wilmington
Trust's Wealth Advisory Services, explained that philanthropy is
sometimes utilized as a way for wealthy individuals to defer
income.
That has become especially important after the American
Taxpayer Relief Act of 2012, which levied a greater federal
income tax on higher-income families.
In light of that, Talty expounded on why lowering one's taxable
income is helpful:
"If I make $500,000, I've reached the highest bracket of income
tax — all my lower taxes are at a lower bracket, but everything
over that is 39.6 percent," he said.
Talty, who works at the Cherry
Hill office of the Delawareheadquartered
Wilmington Trust,
advises clients on financial giving
in a way that slots them into
particular tax brackets.
"We also take the temperature on
how involved they want the
process to be — what kind of giftgiving
they want to do," he said.
Depending on how granular a
client wants to get with the planning, the level of formality is
raised or lowered.
Toward the more formal end of the spectrum would be a client
who wishes to establish a private foundation.
"And those are people who want not just the tax benefits and
everything else, but to leverage the dollars and get others to
October 20. 2014 3:00AM
Give & take | NJBIZ
http://www.njbiz.com/apps/pbcs.dll/article?AID=/20141020/NJBIZ01/310179991/Give–&-take/&template=printart[10/20/2014 10:55:02 AM]
help in doing so," Talty said. "If I go to co-workers and say, 'I
have a foundation,' it's going to be a bit more effective in getting
people to donate than saying you're writing a check."
But private foundations come with paperwork, filing
requirements, a cost to maintain and a whole set of complicated
rules.
So Carl Schwartz, managing partner at Rosenberg Rich Baker
Berman & Company in Bridgewater, said he's seen the
emergence of donor owned-advised funds in lieu of those
foundations.
These funds, which Schwartz said have become a big trend,
allow donating individuals or organizations a flexible way to
contribute to charities.
It involves the contributor opening an account in a charity-owned
fund and depositing the gift. The ownership of whatever is
deposited is lost, but the donor retains control over how the gift
is used.
There are more tax advantages — and less paperwork — for the
donor.
Because a public charity houses the fund, donors receive the
maximum tax deduction available — without any of the
restrictions that come with a privately held fund.
While there might be more or less cost-efficient ways to take
advantage of the tax incentives, "Most of the time, big
companies are not doing it for the tax benefit, but for the public
relations," Schwartz said.
Regardless of the ultimate goal of the business at large, any
businessperson sitting on highly appreciated assets on the stock
market stands to gain from philanthropy.
"If you contribute that security with unrealized appreciation, you
get the full valuation as an income tax deduction," Schwartz
said. "And that's without the capital gains taxes, which are higher
than ever.
"That (might be better) than selling it and paying all these capital
gains taxes to the federal government and the state — the taxes
in New Jersey can be well over 33 percent."
Like stocks, there are other non-standard cash gifts that are
incentivized by taxes.
And those incentives help nonprofits such as the Community
FoodBank of New Jersey, which feeds nearly 1 million people
annually, thrive.
"In this country, we choose to support a lot of our nonprofit work
through private funds," Theresa Forsman, director of foundation
and corporate relations at the organization, said. "The tax
incentives are there to ensure that this method of funding works
well."
There are tax deductions that apply even to the Community
FoodBank of New Jersey's foodstuff donations received from the
state's manufacturers, distributors and retailers.
"The Enhanced Tax Deduction says that a food donor may
deduct the cost of the food plus 50 percent of the markup of the
food — not to exceed two times the cost," Forsman explained.
"That was passed after Hurricane Katrina to encourage food
donations."
Give & take | NJBIZ
http://www.njbiz.com/apps/pbcs.dll/article?AID=/20141020/NJBIZ01/310179991/Give–&-take/&template=printart[10/20/2014 10:55:02 AM]
One thing business owners can't contribute and simultaneously
see a tax benefit for is their time — or that of their employees.
If it didn't stem from taxable income, then there's no deduction to
be had.
But Talty echoed Schwartz in saying that it's not always the
deduction that serves as impetus for the contribution. He said
these conversations can come about in many different ways.
"I'll have people come in and say, 'Talk to me about how I can
save on my income taxes because I'm getting killed every year,'"
he said. "But some who come in just feel strongly about giving to
a specific charity and want to know their options are."
As for whether individuals should be in a rush to examine
philanthropy as an income-deferring solution — in response to
the political machinations that decide tax rates — it's too early to
say.
"There's nothing on the horizon that says taxes are going to go
way up next year," Talty said. "We're not counseling people get
rid of all their income this year.
"Conversely, there's nothing on the horizon that says they'll go
down."
E-mail to: brettj@njbiz.com
On Twitter: @reporterbrett
The Giving State
With more than $4.5 billion in charitable contributions, New
Jersey ranks eighth in total giving among all states. But the
share of discretionary income donated by typical households is
relatively low, at 3.7 percent — slotting it in 42nd place in that
regard.
SOURCE: Study in the Chronicle of Philanthropy, 2012
How to get credit for your contribution
Four tips for charitable contributors from the IRS:
In order to deduct contributions, you must file Form 1040
and itemize your deductions. File Schedule A, Itemized
Deductions, with the federal tax return.
If you get a benefit in return for your contribution, your
deduction is limited. You can only deduct the amount of
your gift that's more than the value of what you got in
return. Examples of such benefits include merchandise,
meals, tickets to an event or other goods and services.
You must file Form 8283, Noncash Charitable
Contributions, if your deduction for all noncash gifts is
more than $500 for the year.
To claim a deduction for donated cash or property of $250
or more, you must have a written statement from the
organization. It must show the amount of the donation and
a description of any property given. It must also say
whether the organization provided any goods or services in
exchange for the gift.
You can give expertise, too
Give & take | NJBIZ
http://www.njbiz.com/apps/pbcs.dll/article?AID=/20141020/NJBIZ01/310179991/Give–&-take/&template=printart[10/20/2014 10:55:02 AM]